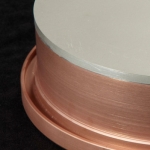 Heimerle + Meule GmbH - www.heimerle-meule.com
- Dennigstraße 16, 75179 Pforzheim, Germany

email: julian.raih@heimerle-meule.com, Tel. +49 (0)7231 940-2196

As Germany's oldest gold and silver refinery, Heimerle + Meule stands for lasting values - as reflected in our products, our philosophy and in our company's history and traditional roots. Founded in 1845 in Pforzheim (known locally as the Golden City), our company has evolved to become one of the leading end-to-end suppliers on the precious metal processing market. Precious metal recycling and trading, precious metal semi-finished products, surface coating...
products: Targets and sputtering materials

Our portfolio in the field of targets and vapour deposition materials made from precious metals and non-ferrous metals ranges from customer-specific small targets for research and development to large targets for industrial plating. We supply planar, segmented, tapered and staggered targets.

And of course, our more than 175 years of experience in precious metals recycling means we are also a competent partner when it comes to reprocessing used targets.