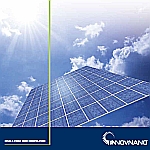 Innovnano - www.innovnano.pt
- iParque, Parque Tecnológico de Coimbra - Lote 13, 3040-570 Antanhol, Portugal

email: info@innovnano-materials.com, Tel. +351 239 002 850

products: Al-doped ZnO nanostructured powder sputtering targets

Innovnano Al-doped ZnO nanostructured powder sputtering targets can be supplied as 2" and 3" discs. Bonding to a metallic backing plate can be arranged.

Innovnano's Al-doped ZnO (AZO) sputtering target discs are produced from our unique nanostructured ceramic powder.
With a higher surface area for increased reactivity, Innovnano's AZO powder enables the production of full density targets at lower sintering temperatures, which minimises grain growth.
Innovnano is one of the only suppliers to ensure a uniform distribution of small secondary phase ZnAl2O4 grains, contributing to both increased target lifetime and high electrical conductivity. And with smaller grain sizes, our AZO sputtering targets offer better mechanical properties, whilst maintaining desirable thermal characteristics.