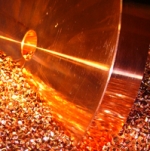 Luvata Pori Oy - www.luvata.com
- Kuparitie, P.O. Box 60, 28101 Pori, Finland

email: info.pori@luvata.com, Tel. +358 2 626 6111

Products: Sputtering Targets

Luvata produces sputtering targets for applications such as EMI shielding and microelectronics.
We can produce tailor-made shapes and sizes and in our manufacturing we use high conductivity Oxygen-Free Copper OF-OKô(4N), OFE-OKô(4N5), High Purity Oxygen-free Coppers and Copper Alloys.

Applications for our sputtering targets include EMI shielding, microelectronics, decorative coatings, solar panels, glass coating and backing plates.