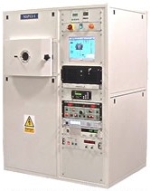 Nanofilm Technologies International Pte. Ltd. - www.nanofilm.com.sg
- 28 Ayer Rajah Crescent, #02-02/03/04, Ayer Rajah Industrial Estate, Singapore 139959

email, Tel.

Established in May 1999, Nanofilm Technologies International Pte Ltd is an internationally recognized authority in the field of Filtered Cathodic Vacuum Arc (FCVA) Technology. Our FCVA coating technology represents a significant advancement in thin film deposition, and is the result of 7 years ground-breaking work by a team of researchers led by Associate Professor Dr. Shi Xu, the Chairman and co-founder of Nanofilm.
products: vacuum coating equipment

Nanofilm Technologies offer a range of solutions for your coating requirements. These include sources and complete systems incorporating FCVA technology, and an in-house coating service.
- sources: ta-C Film Source, Metal Film Source
- systems: Multi-Chamber Coating System (MTCS), Large Batch Coating System, Batch Coating System, Sputter Deposition System,
- vacuum components: Flanges & Fittings, Chambers, Feedthroughs