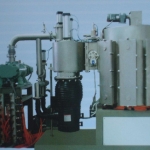 JINGHONG VACUUM THIN FILM (SHENZHEN) CO., Ltd - www.jhv-vac.com
- B12, 2nd Industrial district, Shiao, DaLang, Longhua, Bao'an district, 518129 Shenzhen, China

Hellen CHU, email: szjhvac@gmail.com, Tel. +86-755-61186225

We have decades of experience designing and manufacturing vacuum systems. Our developing capability allows for multiple process systems to be built in parallel with tight control of cost and schedule. We also provide retrofit equipment including fully automated control vacuum systems in customized and related vacuum parts and target materials.
products: vacuum coating

PVD vacuum coating equipment and system:
Evaporation deposition coating equipment, Magnetron sputtering depostion coating equipment, Arc charge deposition coating equipment, Multiple functional coating equipment and system
Continuous coating on-line plant: ITO transparent conductive glass coting production line, Large scale plastic flat coating production line
Cleaning system series: QXG-450JH Flat glass cleaning production line, QXP-950JH PMMA/PC cleaning production line
Vacuum component and sputtering target material