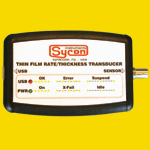 LewVac LLP -
- Unit F2, Ote Hall Farm, Burgess Hill, RH15 0SR, United Kingdom

email, Tel.

LewVac is a UK-based supplier of HV and UHV components to the vacuum technology market, with a product range of many thousands of quality components.
Our range of vacuum components is carefully selected from a broad base of manufacturers, enabling us to be competitively priced and to offer short lead times on standard products.
products: Optical Monitoring and Quartz Crystal Monitoring

We are pleased to offer a broad range of quartz crystal sensor heads, deposition rate controllers and thickness rate monitors, along with all of the associated accessories. Sensors are available as standard models or can be easily tailored to suit your particular requirements.