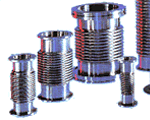 Shenyang ShengDong Bellows Co., Ltd
- 109 MeiGui Street, Sujiatun Distrct, Shenyang 110101, China

Aimee Xuxin, email, Tel. +86-24-89816111

Shenyang Shengdong Bellows Manufacture Co., Ltd (SDB) has a long history in China, in manufacturing flexible metal pipes, metal bellows, flexible hydraulic metal hose, high pressure stainless steel hose, expansion joints, and other special elastic and sealing accessories. These products are extensively used in such industries as instrument and applances, oil field, chemistry, thermo engineering, astronomy, shipping, nuclear power plant, etc. In recent years, due to extensive use of quality metallic alloy and stainless steel, the products we manufactured made a head way in international market for its excellent quality and relatively cheap.
products: Metal Bellows
The range of metal bellows and expansion joints includes gingle - wall and multiple - wall designs with widely differing bellows geometries.
The metal bellows are produced from all metals that can beformed, and are available from wall thickness of 0. 1mm and above, The most modern forming, welding and connection techniques are available and guarantee a flexible long - life and maintenance - free products able to resist high pressure and temperature variations.