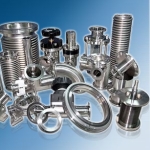 DTI DingTen Industrial Inc.
- No. 1-2 Sec. 2, Kwang Fu Rd., San Chung City, Taipei, 241, Taiwan

Rudy Wu, email, Tel. +886 2 22783666

DTI specializes in hygienic stainless steel fittings, tubings, high purity tubes, valves, filters, heat exchangers ever since its establishment in 1994.
Our products are suitable for the appliances of food, beverage, cosmetics, bio-technology, pharmaceuticals, vacuum and semiconductors from 1/4" up to 8".
products: Vacuum Bellows, Vacuum Flexible Hose, Vacuum Metal Hose
Stainless Steel Vacuum Bellows (Metal Bellows)
Stainless Steel Vacuum Flexible Hose (DTI-VFH)
Stainless Steel ISO Tube Adaptor (DTI-S-AR-27)
Stainless Steel KF Vacuum Bellows, Flexible Hose,Flexible Metal Hose (DTI-KVB)
Stainless Steel ISO Bellows, Vacuum Bellows, Flexible Hose, Flexible Metal Hose (DTI-S-FH-57)