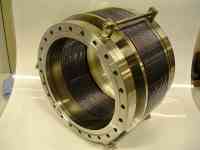 Palatine Precision Ltd.
Airport Industrial Estate, 45 Laker Road, Rochester, Kent. ME1 3QX, England

email, Tel.

Specialists in the production of superior quality stainless steel bellows assemblies.
With over 50 years of experience in the high vacuum industry, Palatine Precision manufacture and supply steel bellows components worldwide.
products: Ultra High Vacuum Edge Welded Bellows

for Aerospace, Biomedical, Cryogenic, Nuclear and Semiconductor applications.