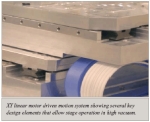 Aerotech KK - www.aerotechkk.co.jp
- 17-25 1-chome Kitahoncho Funabashi-shi, Chiba-ken, 273-0864, Japan

email, Tel.

Since its inception, Aerotech has designed and manufactured the highest-performance motion control and positioning systems available, and our vacuum-compatible platforms are no exception. Aerotech's precision motion control products provide the critical performance for today's demanding vacuum applications in markets such as semiconductor manufacturing and inspection, optics fabrication, and military/aerospace.
products: motion control products

A wide variety of standard Aerotech motion products are available in vacuum-prepared versions.
In addition to standard platforms, Aerotech routinely manufactures custom systems designed to meet application specific needs.
All Aerotech's vacuum compatible motion platforms minimize pump downtime, chamber contamination, and thermal issues. In addition, these systems can incorporate key application considerations like reduction of magnetic fields.
Vacuum options available
Low Vacuum Option (10-3 torr)
Standard Vacuum Option (10-6 torr)
High Vacuum Option (10-8 torr)