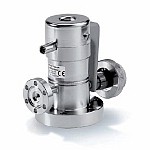 Pfeiffer Vacuum GmbH - www.pfeiffer-vacuum.com
- Berliner Str. 43, 35614 Aßlar, Germany

email: info@pfeiffer-vacuum.de, Tel. +49 (0)6441 802-0

Pfeiffer Vacuum is a vacuum technology world leader for more than 130 years: an important milestone was the invention of the turbopump in our company more than 50 years ago. Our comprehensive range of solutions, products and services includes vacuum pumps, measurement and analysis equipment, up to complex vacuum systems.
products: vacuum valves

Angle valves, Inline valves, Diaphragm valves, Butterfly valves, HV gate valves, UHV gate valves, Mini angle valves, Mini inline valves, Venting valves, Pressure relief valves, Gas dosing valves, Gas regulating valves, Ball valves

Pfeiffer Vacuum vacuum valves are used in wide-ranging solutions in industrial applications and research areas.
The vacuum valves are divided according to size, type of flange and drive, and according to the pressure range used. There are manually operated vacuum valves with ISO-KF flanges or CF flanges as well as electropneumatically operated vacuum valves that are also offered with ISO-K flanges. The electromagnetically operated vacuum valves are only constructed with ISO-KF flanges due to their operating principle. There are special vacuum valves in all-metal designs for use in the UHV area and vacuum valves, so-called gas metering valves, for controlling pressure as well as for the measured gas supply in vacuum systems. Many of these vacuum valves are available in aluminium and stainless steel.