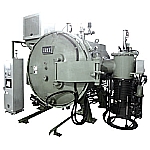 IHI Machinery and Furnace Co., Ltd., Headquarters - www.ihi.co.jp
- Toyosu Center Building 9F, 3-3, Toyosu 3-Chome, Koto-ku, Tokyo 135-0009 Japan

email, Tel. +81 3 6758 0050

IHI Corporation was established in 1853 and since then we have been continuously contributing to the development and expansion of industrial technology in Japan and beyond.
Currently the IHI Group has over 250 affiliated companies worldwide and more than 26,000 employees.
Products: Vacuum Furnaces for Advanced Materials
Horizontal Vacuum Furnace, Vertical Vacuum Furnace, Multi Chamber Vacuum Furnace
Vacuum Carburizing Furnace VCB, Vacuum Carburizing Multi-Cell Furnace Line V-MALS
Inline/Small Batch Vacuum Carburizing Furnace
Vacuum Degreaser HWV-V, Vacuum Degreaser IWV-34C
Tempering Furnace