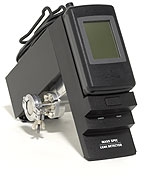 BLM Synergie/OOO Technoportal
- Sokolnicheskaya Slobodka Str. 10 - Office 9, 107 113 Moscow, Russia

Konstantin OUSSATCHEV, Mrs L. MIRONOVA, email, Tel.

MKS Instruments is a leading worldwide provider of instruments, components, subsystems and process control solutions that measure, control, power and monitor critical parameters of advanced manufacturing processes such as semiconductor device manufacturing, thin-film manufacturing for flat panel displays, optical storage media, architectural glass and electro-optical products, biopharmaceutical manufacturing.
products: leak detectors
PICO® Leak Detectors
PICO® Vacuum Helium Leak Detector: An inboard Helium leak detector for vacuum systems, with removable display
PICO® Sniffing Helium Leak Detector: Outboard, battery-operated, Helium leak detector for sniffing applications