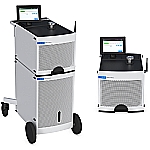 Agilent Technologies UK Ltd. - www.agilent.com
- 6 Mead Road, Oxford Industrial Park, Yarnton, Oxford OX5 1QU, United Kingdom

email: vpt-customercare@agilent.com, Tel. +44 1865 291570

Agilent Vacuum Products Division (VPD), formerly Varian Vacuum, is a global supplier with a complete range of vacuum pumps, leak detectors, components and accessories to create, control, maintain and measure vacuum.
products: Leak detection
Agilent's range of leak detection solutions ensure the safety, security and consistent performance of research, vacuum, and industrial process systems.
HLD Leak Detectors are rugged, precise, and easy-to-use instruments that accurately and efficiently detect leaks in an array of industrial applications.
For clean research applications, HLD configurations employ clean, dry, quiet scroll vacuum pumps. Our leak detectors feature automated start-up and calibration for maximum productivity, built in application set-ups, and an array of accessories to make any leak detection process simple.