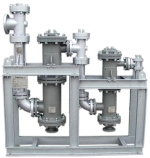 Transvac Systems Ltd.
- Bramble Way, Alfreton, DE55 4RH, United Kingdom

David Ainge, email,

Transvac has designed and manufactured steam ejectors systems for over 30 years, Transvac also offers a consultancy / maintenance / training service for steam ejector vacuum systems.

products: ceramic vacuum pumps
Transvac is a specialist supplier of custom designed single stage and multi-stage corrosion resistant steam ejector systems.
We offer contact parts in most corrosion resistant materials including graphite, PTFE, PFA, hastelloy, titanium, ceramic etc.
Transvac ejector systems can be fully packaged complete with direct or indirect contact condensers for low level or barometric operation.
Liquid jet vacuum systems are available which simultaneously scrub entrained gases.