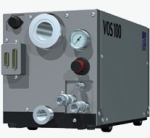 EBARA - www.ebara.co.jp
- 11-1, Haneda Asahi-cho, Ohta-ku, Tokyo 144-8510, Japan

email, Tel.

EBARA's rapidly growing Precision Machinery Group creates clean environments that are crucial to the fabrication and processing of semiconductor devices. For domestic and overseas semiconductor manufacturers competing for advances in integration density and yield, the quality of production environments is directly reflected in the quality of the final products. Both from within EBARA and from outside, there is a growing need for the offerings of the Group, which actively pursues technological advances in accordance with the Corporation's environmental philosophy.
Employing ultrahigh-vacuum and ultra-clean technologies, the Precision Machinery Group works proactively to create an idea environmental for sub-micron technology in VLSI device manufacturing. The Group is making rapid progress in diverse areas, from components such as vacuum pumps and gas scrubbers to process equipment such as a chemical mechanical polisher and electroplating.
products: Dry Vacuum Pumps
EBARA is a world leader in the design and manufacture of "dry" mechanical pumps. EBARA dry pumps provide a host of product enhancements including increased reliability, reduced clean room particulate load, low noise, low vibration, lower operating costs, and the lowest cost of ownership.
EBARA's dry pumps survive the harshest applications such as LPCVD, PECVD, CVD, and meta etch. EBARA's dry pumps are used for many applications in and outside the semiconductor industry where oil backstreaming is unacceptable. Custom designs and broad product lines make an EBARA dry pump the pump of choice. EBARA offers broad product lines with many models to choose from.
PDV Series: Maintenance free - ideal replacement for scroll and wet pumps
VOS Series: Highest pumping speed to footprint ratio in the industry
ESR Series: Designed and manufactured to be the lowest cost of ownership pumps on the market today
EST Series: Engineered for application in harsh duty processes
ESA Series: Designed and manufactured to be the lowest cost of ownership pumps on the market today