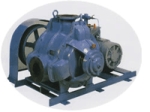 UNOZAWA-GUMI IRON WORKS, Ltd - www.
- 36-40, Shimomaruko, 2-chome, Ohta-ku Tokyo 146-0092, Japan

email, Tel.

Unozawa was established in August 1899 and over century since then, the Company, as specializing manufacturer of pumps and blowers, has been manufacturing various excellent products.
After foundation, the Company manufactured steam pump, boiler feed pump and condensate pump, liquid ring vacuum pump reciprocating vacuum pump and pneumatic conveyor, etc.
In 1950, the positive displacement blower and vacuum pump (Roots type), which is used with the paper machine, were developed by the Company for the first time in Japan. Further, in connection with the pollution control equipment, the Company manufactured aeration blower for water treatment.
Unozawa has developed the dry vacuum pump in 1983, which is unparalleled in the world, in advance of other manufacturers. The new pump is exported in quantities to the world.
Further, this pump has been exporting to various companies in the USA, EC and Asian countries. Furthermore, the dry vacuum pump has been finding rapidly spreading fields of application, and is supplied not only semi-conductor manufacturing industry, but also to fine chemical and many other general chemical industries extensively.
products: liquid ring vacuum pumps and compressors

Unozawa water ring vacuum pump is developed by our own technology, and high-performance and low-noise. The adoption of a very simple operating system of single-rotation and single-compression type offers many advantages for a wide range of vacuum pump.

Applications:
Vacuum drying, Evaporation and Condenser in Chemical and Food industry. Priming for Large centrifugal pump. Dehydration for paper machine.