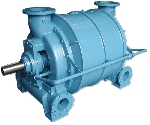 CUTES Corp. -
- 2-22, Nan Yuan Road, Chung Li City (320), Taoyuan, Taiwan, R.O.C.

email, Tel.

Established in 1974, 130 employees,
Design and manufacture of vacuum pump ISO 9001:2000 qualified and certificated (Det Norske Veritas)
products: liquid ring vacuum pumps and compressors

- CRV Series, direct coupled (flange motor), single stage vacuum pumps, up to 200 CFM (250 m³/h)
- CW and CWV Series, single stage and two-stages liquid ring vacuum pumps, up to 500 cfm (850 m³/h)
- CNN Series, equivalent to Nash CL: up to 9000 CFM (15.000m³/h)
- CVP Series, equivalent to Nash 904-P, R, S, T: up to 13000 CFM (22.000m³/h)
especially for the Pulp and paper industry, sugar industry, Filter applications, Plastics extrusion, food processing, vacuum packaging, vapour / solvent recovery, Sterilization, Distillation, Medical / Laboratory central vacuum.