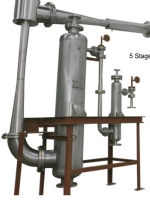 Quicksilver Engineering B.V. - www.appliedvacuum.co.za
- Bryn Bach, Llandrillo, Denbighshire, Wales, United Kingdom LL21 0TE

Tess Stiles, email: tess@quicksilverengineering.com, Tel. +44 1490 440334

Quicksilver Engineering Ltd. offers not only general chemical and process engineering expertise and consultancy services plus specialist vacuum engineering know-how, but also project management, troubleshooting, commissioning and conceptual design, with further specialisation in biomass pyrolysis/gasification and in the application of the Machinery Directive to process plant.
In addition, Quicksilver Engineering Ltd. is the European sales representative for the South African ejector manufacturer Applied Vacuum CC.
products: Steam Ejectors, Vacuum Systems

Vent Silencers, Injection Heaters, Liquid Eductors

Applied Vacuum have been involved in designing, fabricating and commissioning multi-stage Ejector Sets since the mid 1970's. Our computerised designs yield steam and cooling water efficiencies which are comparable to those offered by manufacturers worldwide.
We have supplied Multi - stage Ejector sets fabricated in Carbon Steel, Stainless Steel, Titanium, PTFE, Carbon and others.
The Ejector Sets operate in a range of suction pressures down to 0,3 mbar absolute, and carry loads of up to 1000 kg/hr.