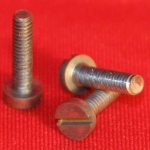 Thermo Shield - www.thermoshld.com
- 361 Grove Dr., Portola Valley, CA 94028, USA

email, Tel.

Since our inception in 1978, Thermo Shield has been focused on high temperature vacuum furnaces. Not only do we provide replacement parts, such as shield packs, heating elements, and work fixtures, we also provide design advice and consultation. As a result of our experience, we stock raw materials and fasteners for refractory environments. Our stock consists of Molybdenum, Tantalum, Tungsten, Alumina and Mullite.
products: vented screws

Thermo Shield can provide custom machining, forming, stamping and extrusion of Molybdenum, Tungsten, Tantalum as well as custom Alumina and Mullite parts. Aside from the standard products we offer in our catalog, we can create infinite sizes and variations of screws, nuts, washers, screens and rods to meet custom specifications. Our production facility is capable of handling one-off parts as well as full scale production runs for specialty pieces. Our team can handle assemblies requiring procurement of third party components and we have a large variety of shipping options.