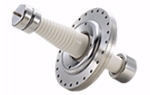 KYOCERA
- 6 Takeda Tobadono-cho, Fushimi-ku, Kyoto 612-8501, Japan

email, Tel.
products: High-voltage Feedthroughs

Kyocera offers various type of feedthroughs, most widely used with ceramic-metal bonding parts.
By the medical treatment in the 21st century, the role with the radiation medical treatment important as the method of cancer medical treatment using the accelerator will be played. It is necessary to carry out load of the high voltage to the portion which carries out injection of the charged particle to the accelerator which emits radiation. The reliance with the high-voltage current feedthroughs exceeding 100kV of KYOCERA is obtained, and this duty is achieved.

Feedthrough (Open Tool) Coaxial Connectors: Kyocera offers a wide variety of feedthrough connectors with our ceramic-metal bonding technology which have been experienced many years under the business of super-high vacuum environment, such as synchrotron orbital radiation and aerospace.
These products are open tool which meet the specification of general purpose coaxial connector and multi-pin connector. These connectors are used at a wide range applications for leading edge technology/science, such as synchrotron orbital radiation and nuclear fusion, as well as industrial manufacturing equipments, and semiconductor manufacturing equipments.