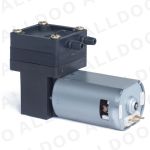 ALLDOO MICROPUMP CO., Ltd - www.alldoo.com
- No9 Huifeng road, Yueqing Zhejiang, Wenzhou, China, 325600

Charles ZHU, email: info@chinamicropump.com, Tel. +86-577-62535398

Alldoo Micropump Co., Ltd is a new sci-tech enterprise located in Zhejiang province, all the products are made in China.
The company takes a broad and long view. Relying on abundant technical strength of micro pump, we devotes ourselves to develop and design the micro pump series with reliable quality and reasonable price, suitable for the fields of gas or liquid transferring, cooling systems, sampling, medical or chemical analysis, blood pressure measuring, home appliance,toys and many other areas of industry supply. We also design and produce micro pumps according to the requirements of customers and accept OEM orders.
products: diaphragm micropumps
We specialize in the designing and production of various diaphragm micropumps
including micro diaphragm vacuum pumps, gas pumps, water pumps, oil pumps and liquid pumps with low flow range and small size.