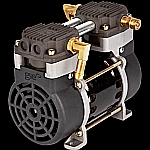 GSE International - www.gseint.com
- Unit 829, Corporation Park, 11 On Lai Street, Shatin, N. T., Hong Kong

email, Tel.

GSE is one of the world's leading manufacturers of oil-free OEM vacuum pumps and compressors. Established in 1997, we now produce over 1,000,000 units per year, with global sales in excess of $70 million.
Our head office is in Hong Kong, which handles sales and administration across the Asia-Pacific region. Our Hong Kong office is also the engineering interface with the design teams in our factory in China
products: Rocking piston OEM vacuum pumps

All our products use the rocking piston technology, although we offer diaphragm versions for certain specialist applications. Available flow rates vary from under 10lpm (0.36cfm) to over 400lpm (14.1cfm), with pressures ranging from 29"Hg (vacuum) to over 11 bars (pressure).

Through strategic OEM partnerships in the majority of industrialized countries, we supply premier brands in the automotive, beverage, environmental, laboratory and medical sectors.