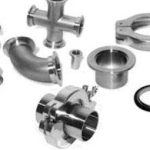 Vactechnic Industries Co., Ltd - www.vactechnic.com
- Botian industrial park, Ruian, Zhejiang, Wenzhou, China 057510

Susan Wang, sales mgr., email: sales@vactechnic.com, Tel. +86-0575-8133396

Founded in 2003, VACTECHNIC is a professional Chinese manufacturer of High and Ultra High Vacuum products. Our main products are vacuum chambers, vacuum flanges & fittings, valves, turbo pumps etc. We have a good professional team which have many years experience on machining high difficulty stainless steel products, we also have high precision CNC machine center and high precision vacuum welding equipments, well equipped inspection department (including Helium Mass Spectrometer leak detection) and quality management systems. we have designed and fabricated vacuum components, chambers and supporting equipment for many big vacuum companies around the world.
products: Vacuum and ultra-high-vacuum flanges and components:

CF Flange Series, KF Flange Series, ISO Flange Series, Flexible Hoses,
Vacuum and ultra-high-vacuum chambers, Vacuum Valves, Turbomolecular Pumps.