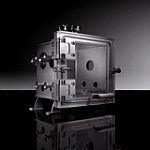 Hakuto Co. Ltd. - www.hakuto-vacuum.jp - www.pfeiffer-vacuum.com
- 1-13, Shinjuku 1-Chome, Shinjuku-Ku, Tokyo 160-8910, Japan

email: info@pfeiffer-vacuum.de, Tel. +81-3-3225-8910

Hakuto was founded in November 1953, originally as a trading company who deals with import and re-sale of the crystal ore.
Pfeiffer Vacuum is a vacuum technology world leader for more than 130 years: an important milestone was the invention of the turbopump in our company more than 50 years ago.
Our comprehensive range of solutions, products and services includes vacuum pumps, measurement and analysis equipment, up to complex vacuum systems.
products: vacuum pumps and systems, measurement and analysis equipment, vacuum components

Rotary vane vacuum pumps, diaphragm pumps, piston vacuum pumps, dry screw pumps

High vacuum side channel pumps, roots blowers, turbomolecular pumps

Vacuum measurement, Analysis, Residual Gas Analyser

Leak detectors, leak detection systems

Vacuum chambers, vacuum flanges and fittings, hoses, flexible connectors

Viewports, vacuum valves, feedthoughs, manipulators