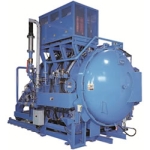 Koyo Thermo Systems Co., Ltd - www.koyo-thermos.co.jp
- 229, Kabata-cho, Tenri, Nara, 632-0084 Japan

email, Tel.

Manufacture and sale of industrial heat-treatment furnaces, semiconductor manufacturing equipment, electronic component manufacturing equipment, Laboratory Electric Furnace & Oven and Unit heaters for electrical heating and resistance heating.
products: vacuum furnaces
Continuous Vacuum Furnace: Hardening, brazing and annealing are available in a vacuum environment. Our furnace lineup includes 2-chamber and 3-chamber furnaces equipped with separate quenching oil tank or gas cooling chamber.
Vacuum Purge Furnace: The external heating type vacuum purge furnace with a Moldatherm heater and a metallic muffle.
Vacuum Sintering Furnace: The carbon inner muffle enables continuous processing from degreasing to sintering. The furnace has the structure whick keeps the heating chamber clean without contamination by the gas emitted during degreasing.