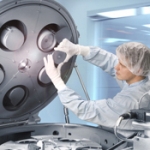 PLANSEE Japan Ltd. - www.plansee.co.jp
- Akasaka Twin Tower, 2-17-22 Akasaka, Minato-ku, Tokyo 107-0052, Japan

email, Tel. +81 3 3568 2451

With its complete in-house manufacturing, extensive expertise in powder metallurgy and special deformation technologies, PLANSEE guarantees the best quality materials for the coating industry. They stand out for their full density, high purity and a uniform and fine grained microstructure.
PLANSEE has established facilities in 16 countries.
products: Sputtering Targets

PLANSEE is a leading supplier of planar and rotary sputtering targets for thin-film solar cells (CIGS, CdTe, CSP), flat panel displays and hard coating. In addition to sputtering targets made of pure molybdenum and tungsten, PLANSEE also offers high quality molybdenum alloys such as MoNa, chromium, and materials for absorber layers, as well as substrates for flexible solar cells. For hard coating PLANSEE delivers all typical OEM target dimensions in many compositions such as TiAl, Ti, TiSi, Cr, TiB2 or binder free WC.

In its in-house application center, PLANSEE sputters and characterizes thin-film materials under real conditions. The laboratory is also available for customers. According to their specifications, PLANSEE sputters test substrates by RF-, DC- or Pulsed-DC-methods and thereby gives decisive information for the further development of coating systems.