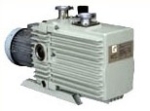 Vacuum El System Ltd. - www.vacuumsys.com
- 1 Yambolen St., 8600 Yambol, Bulgaria

email, Tel.

Vacuum production dates from 1984. The Production situated in Yambol, Bulgaria, is organized in accordance with the DIN EN ISO 9001:2000 requirements.The company guarantees high quality products at reasonable prices and perfect service from experienced specialists.
The rotary vacuum pumps, filters and components have been manufactured in compliance with Leybold Company's licence, Germany.
products: Rotary vane vacuum pumps, aggregates, systems and components

SINGLE-STAGE ROTARY VACUUM PUMPS: The RSVPs are used for obtaining preliminary vacuum in all areas of vacuum technology.The single stage oil vacuum pumps are designed for pumping of non-aggressive gases without mechanical impuritiesand no more than 80% humidity. They are integrated in vacuum systems needed for technological processes in the MEDIUM VACUUM range.

TWO-STAGE ROTARY VACUUM PUMPS: The two-stage RTVP rotary vacuum pumps are used for obtaining preliminary vacuum in all kinds of vacuum equipment.They are oil rotary vacuum pumps based on the principle of vane rotation.The purpose of oil is to seal, lubricate and cool at the same time .The oil sealed RTVPs are used for pumping aggressive and non- aggressive gases.They can be combined with one phase (280V) and three phase (380V) electric motors. The RTVP are equipped with gas ballast valve and can removel large amounts of condensible gases and water vapor-gas mixtures. They are designed for use in vacuum system required in the area of HIGH VACUUM technological processes.