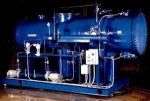 Ambassador - www.ambassadorco.com
- 10080 Alliance Rd., Cincinnati, OH 45242, USA

email, Tel.

Ambassador Heat Transfer Company has been a leader in design, development, manufacture and service of Heat Transfer Equipment since 1961, for over 45 years now.
Ambassador Company has two production plants in U.S.A.: one plant is 5-1/2 acre for heavy equipment with 30 ton crane capacity, the second plant is on 2+ acres for medium and small equipment. Ambassador Company is authorized by U.S. National Board and ASME to manufacture and Code Stamp heat exchangers (U and R stamps). Custom-Engineered heat exchangers to ASME specifications, TEMA, API, U.S. Navy, U.S. Coast Guard, etc., are made when specified. Ambassador Company has a strong electronic controls and computer engineering department. It designs, manufactures and factory checks a variety of control systems for Heat Exchangers suited to various needs, and generates custom software to meet the requirements.
products: Vacuum Surface Condensers

Steam Condensers (Water & Air Cooled) including steam jet ejectors or vacuum pumps, condensate pumps, local/remote PLC/DCS controls, & software (custom designed)
ASME, TEMA, API, HEI Exchangers