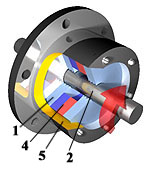 FERROLABS, INC. - www
- 21525 Ridgetop Circle, Suite 260, Dulles, VA 20166, USA

Dawn Lopiccolo, email, Tel. +1 703 496 3687

FerroLabs, Inc. is a leading developer and manufacturer of ferrofluid-based seals for hermetical sealing of rotary shafts in semiconductor and vacuum process manufacturing, thin film coating, biological and chemical reactors. FerroLabs, Inc. manufactures ferrofluid-based seals, which surpass the performance of conventional seals.
products: Ferrofluid-based seals for hermetical sealing of rotary shafts

ferrofluid, ferrofluid-based seals, specialized seals, vacuum feedthrough, magnetorheological suspensions, customized seals, rotary seals, vacuum seals, seals, rotary feedthrough