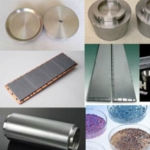 Matsurf Technologies Inc. - www.matsurf-tech.com
- 7204 Schey Dr, Edina, MN 55439, USA

email: info@matsurf-tech.com

products: sputter targets

We supply high quality Ti alloy bar, plate, wire, and tube for medical and other industry application as well as customer designed targets for magnetic sputtering, cathodic arc, and evaporation with competitive price.
We are specialized at rare metal and precious metal targets (Ti, Cr, Ni, Si, Hf, Ta, Y, Zr, Ag, Au, Nb, V, Mo, W, TiAl, TiCr, CrAl, TiSi, CrAlSi, CrW) and oxide targets (ITO, NbO, ZnO).
We also provide material characterization techniques and failure analysis to solve issues in the development, manufacturing, and application of your products.