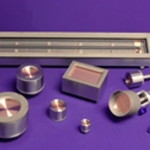 Angstrom Sciences, Inc. - www.angstromsciences.com
- 10984 Lynne Ave, Lafayette, CO, USA

email: info@angstromsciences.com, Tel. +1 412-469-8466

Angstrom Sciences' Colorado office provides consultative services, sales advice, and technical support on the company's high performance magnetron sputter sources and high purity pvd materials for a wide variety of thin film sputter application processes.
The company's patented advancements in magnet technology and cathode design provide high target utilization and deposition rates without compromising process film uniformity. Backing Plates and Bonding Services, Conductive Products, Thin Film Coating Lab Services.
products: Magnetron sputter sources and high purity pvd materials

Circular Magnetrons, Linear Magnetrons, Rotary Magnetrons, Cylindrical Magnetrons, Custom Magnetrons and Cluster Assemblies,
Magnet Retrofits for BOC, MRC, CVC, Leybold, Perkin Elmer, and Cylindrical Assemblies,
High Purity PVD Materials and Sputtering Targets,