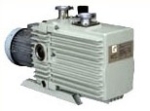 Vacuum El System Ltd. -
- 1, N. Gabrovski str., 1172 Sofia, Bulgaria

email, Tel.

The Production situated in Yambol, Bulgaria, is organized in accordance with the DIN EN ISO 9001:2000 requirements.The company guarantees high quality products at reasonable prices and perfect service from experienced specialists. The rotary vacuum pumps, filters and components have been manufactured in compliance with Leybold Company's licence, Germany.
products: Rotary vane vacuum pumps

aggregates, systems and components,
electrical equipment for erection, machinery and structures for electrical control of processes, metal frame products and parts.