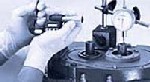 Leybold Vacuum USA -
- 5700 Mellon Road, Export, PA 15632-8900, USA

email, Tel.

Repair centers are located in Boston, MA; Dallas, TX; Grand Rapids, MI; Hartford, CT; Los Angeles, CA; Oakland, CA; Newark, NJ; or San Jose, CA.
In addition to its repair services, Leybold is also offering a large selection of remanufactured booster pumps, cryopumps, rotary piston pumps, dry compression pumps, rotary vane pumps, diffusion pumps, turbomolecular pumps, and scroll pumps.
products: Leybold Vacuum USA is now servicing all brands of vacuum pumps

including Aerzen, Alcatel, Anest-Iwata, Balzers, Busch, CTI, Dresser Roots, Ebara, Edwards, Kinney/Tuthill, Pfeiffer-Balzers, Stokes, Varian, and Welch.

Our regular repair consists of: 1) Disassembly and removal of toxic materials; 2) Safe disposal of materials, in accordance with state and federal regulations; 3) Cleaning and inspection of work surfaces; 4) Replacement of consumable parts, elastomers, filters and other basic wear items; and 5) Rebuilding, testing and re-labeling.