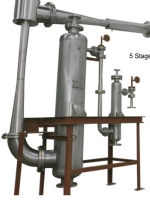 APPLIED VACUUM -
- Anne St, Sandringham, Johannesburg 2192, South Africa

Geoff Levy, email, Tel.

products: Steam Ejectors, Vacuum Systems

Vent Silencers, Injection Heaters, Liquid Eductors

Applied Vacuum have been involved in designing, fabricating and commissioning multi-stage Ejector Sets since the mid 1970's. Our computerised designs yield steam and cooling water efficiencies which are comparable to those offered by manufacturers worldwide.
We have supplied Multi - stage Ejector sets fabricated in Carbon Steel, Stainless Steel, Titanium, PTFE, Carbon and others.
The Ejector Sets operate in a range of suction pressures down to 0,3 mbar absolute, and carry loads of up to 1000 kg/hr.