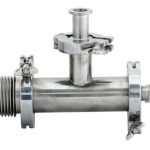 ProSciTech Pty Ltd - www.proscitech.com
- 11 Carlton Street, Kirwan, QLD, 4817, Australia

email, Tel.

ProSciTech Pty Ltd was founded in 1979 and is a well established supplier to science, medical and technology organisations in Australia and New Zealand and, via the Internet, around the World.
Our large and practical online catalogue lists around 7,000 different science consumables and instruments, 5,000 of which are held in our stock. We are the preferred supplier to customers from all major science areas, but remain specialised in light and electron microscopy, histology, and vacuum technology.
We feature appropriate instruments and supplies. PST has several hundred suppliers from around the world. We operate from a single location in Australia and employ no travelling sales staff.
products: Vacuum connection fittings

All NW/KF style vacuum connections conform to the international ISO 2861/I standard. KF series quick release flanges also comply with Standard GB4982-85.
Other vacuum components, which may include three-way types, blind plates, metal flexible corrugated pipes, callipers and bolts, heel blocks and holders, comply with the ISO Standard 9000:2000.
They are widely used in the assorted vacuum systems and low-voltage pipe systems, such as electronic, food machinery, the petrochemical industry, and medicine machinery.
Our vacuum fittings come with plastic protective caps which help protect the NW/KF flanges from scratches and dust.