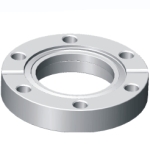 KING LAI INTERNATIONAL CO., Ltd -
- 22 West Lufeng Road, East Industrial Zone, Kunshan Economic & Technical Development Zone, 215331 Jiangsu Province, China

email, Tel.

King Lai, founded in 1991, is one of the fastest growing manufacturers for components and fittings in sanitary piping systems and vacuum technology systems. King Lai sanitary division serves customers in various industries, from daily articles of dairy, food, and beverage, to laboratory studies of chemical, pharmaceutical, and bio-tech. King Lai vacuum products are also valued highly by customers in vacuum technology, scientific instruments, laboratory research, and aerospace industries. With our recent success in research and development, King Lai vacuum division further expands services to semi-conductor, solar power, and fiber optic industries.

products: CF Fittigs, KF Fittings, ISO Fittings

Utilizing engineering and manufacturing expertise, King Lai is constantly developing HV & UHV fittings, flanges, valves and other accessories to meet needs in electronics, energy, vacuum systems, synchrotron radiation, and any other advanced technological industries.