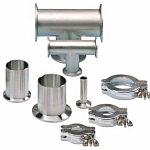 adixen Vacuum Technology Korea - www.pfeiffer-vacuum.com
- 12F Starplaza, 92-7, Bansong-Dong, Hwasung-Si, Gyeonggi-Do, Korea

email: info@pfeiffer-vacuum.de, Tel. +82 31 8014 7200

Pfeiffer Vacuum is a vacuum technology world leader for more than 130 years: an important milestone was the invention of the turbopump in our company more than 50 years ago. Our comprehensive range of solutions, products and services includes vacuum pumps, measurement and analysis equipment, up to complex vacuum systems.
products: Vacuum components, flanges and fittings

Flange components create the connections for individual vacuum components and are required for every vacuum system. In doing so, the vacuum technology places high demands on the materials used as well as on the manufacture of the components.

Pfeiffer Vacuum offers you several proven flange systems which correspond to the different connection standards:
- small flanges (ISO-KF) in sizes DN 10 to DN 50
- clamping flanges (ISO-K) in sizes DN 63 to DN 630,
- CF flanges (CF) in sizes DN 16 to DN 350
- as well as Bolt flanges (COF) in sizes DN 400 to DN 800.