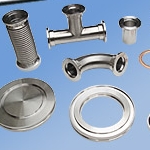 Wellgrow Industries Corp. -
- No.66, Lane 126, Sec. 2, Shi-Twen Rd., Taichung 40749, Taiwan, R.O.C.

Sandy Wang, email, Tel.

Wellgrow Industries Corp. founded in 1987 is the member of HSIUNG SHUN GROUP a professional manufacturer of high quality stainless steel and carbon steel butt weld fittings, cast pipe fittings, forged pipe fittings, sanitary fittings, sanitary valves, BPE fittings, butterfly valve, sight glass, check valve, ball valve, plug valve, needle valve, strainer, non-return valve, gate valve, globe valve, knife gate valve, vacuum components, instrument tube fittings, handrail & balustrade fittings, flanges, coil, plate, sheet, pipe, tube, bar.. etc. for various industries applications.
products: Vacuum components, vacuum flanges

Weld Fitting, Weld Flange, Weld Valve
KF Fitting, KF Flange, KF Valve
ISO Fitting, ISO Flange, ISO Valve
CF Fitting, CF Flange, CF Valve

Wellgrow manufactures a full line of Vacuum Fittings, Vacuum Products, Vacuum Components, Vacuum Flange, Flange Adapter, Vacuum Valve, Vacuum Tubing, Vacuum Hose, Pipe Fittings, Weld Fitting, based on our flexible production ability and strict quality control, which are applied to Ultra-high, UHV, high vacuum system, semiconductor industry, vacuum chamber, vacuum pump, and optoelectronics applications.

Our available series are KF (NW, ISO-KF), ISO, CF (Conflat), in grade 304, 304L, 316, 316L, DIN1.4301, DIN1.4306, DIN1.4401, DIN1.4404 stainless steel and also aluminum for some components. Our available surface finishes are pickled, machining, polished, electro-polished, sand-blasted.
Custom flanges are available upon request. We maintain inventory for prompt delivery and to meet those unexpected demands.