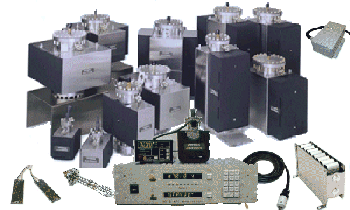 Scanwel Ltd. - www.scanwel.co.uk
- Llandderfel, LL23 7HW Bala, United Kingdom

Ian Owen, email: info@scanwel.co.uk, Tel. +44 (0)1678 530 281

Scanwel was established in 1974, to provide a rapid response service to the rapidly expanding market in high vacuum fittings and fabrications.
Scanwel manufacture over 5000 products. We carry an extensive stock (probably the widest range in the UK) of our own manufactured hardware, including: Viewports, Ion Pumps and Controllers, Foreline Traps and Cold Traps, Standard Vacuum Components, Heating Tapes,Jackets and Tents Chambers, Fabrication and Baseplates, Conflat, Klein and ISO Flanges and Fitting, Angle Valves, Leak Valves and Gate Valves, Motion, Electrical, Liquid and Optical Feedthroughs.
products: fittings, components, custom fabrications / chambers

Scanwel distributes leading edge technology products from world leading companies:
Ametek - Dycor Quadrupoles & RGA Systems
GammaVacuum - Getter Pumps (Ion & TSP)
Hemi Heating - Bakeout Fans, Heating Tapes, Jackets & Tents
High Vacuum Apparatus - Gate Valves
Huntington - Vacuum Valves, Motion Feedthroughs & Manipulators
Kimball Physics - Electron & Ion Optics
Nanonis - SPM Control Systems for Any Microscopev
NT-MDT - Ambient, Vacuum, Liquid & Bio SPM www.ntmdt.com
Physical Electronics - Surface Analysis (XPS, AES, ToF & DSIMS)
RHK - UHV STM & AFM Components, Systems & Controlware
Solid Sealing Technology - Electrical Feedthroughs & Glass-Metal Seals
SPECS - Surface Science Components, Systems, Arhus & JT-STMs
SPS-Createc - LT-STM Systems & Components
VTS-Createc - MBE Systems & Components