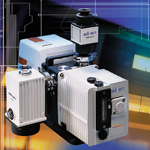 Pfeiffer Vacuum Ltd, former Alcatel Vacuum Technology UK Ltd. - www.pfeiffer-vacuum.com
- 8 Bain Square, Kirkton Campus, Livingstone - West Lothian, Scotland, UK EH54 7 DQ

Elizabeth Kaya, Tel. +44 (0)1506 418000

All the vacuum technology strength, skill and expertise built up by Alcatel over 40 years is now concentrated in Adixen. Alcatel Vacuum Technology will continue to deliver high quality, cost-effective, high-performance vacuum pumps, helium leak detectors and micro machining systems under the new brand name, Adixen.
products: vacuum pumps and systems, measurement and analysis equipment, vacuum components

Rotary vane vacuum pumps, diaphragm pumps, piston vacuum pumps, dry screw pumps

High vacuum side channel pumps, roots blowers, turbomolecular pumps

Vacuum measurement, Analysis, Residual Gas Analyser

Leak detectors, leak detection systems

Vacuum chambers, vacuum flanges and fittings, hoses, flexible connectors

Viewports, vacuum valves, feedthoughs, manipulators